Professor Soetanto has lectured in his home country Indonesia, Singapore, Malaysia and China, after receiving impassioned calls from governments and related organizations in those countries. The passionate feeling he puts into his teaching has inspired beleaguered young people around the world; he is even being picked up by the media in those countries. Three students spoke with Professor Soetanto, who has returned to Japan after a long period away.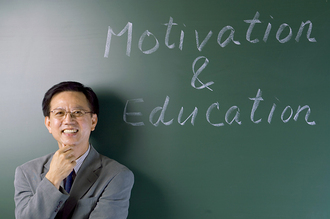 (photo :nikkie BP Mr sugano )
Q:Please tell us about your childhood and the details of how you came to Japan
A:Both my parents died when I was an infant, and I was raised by a very strict stepmother. With my weak constitution I was treated as a burden, so I have no fond memories of home. Being at home was unpleasant, so I began leaving early for school in the morning so I could help clean there. I started to be acknowledged by the teachers and everyone because of this; I then wanted to be acknowledged even more so I began to study harder and teach classmates and children in my neighborhood how to study. However, in 1965 when I had just started my first year in senior high school, the new government that had arisen out of the anti-Communist Party coup d'état (known as the 9.30 Incident) closed every school for Indonesian-Chinese children around the country, so we could no longer receive an education. I had no choice but to begin helping in my older brother's business selling electronics, and while doing that I started my own repair business. Not only did that business become a huge success, my older brother was also able to lead a prosperous life, and it was from these economic reasons that I, despite being unable to go to high school and university, felt an uncontrollable urge to study more.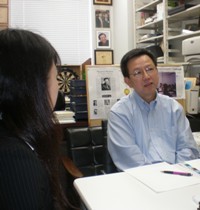 With my ambitions to become an engineer, I was naturally fascinated by Japan and its sophisticated electronics, so I left for here at 23 years old. At 26, although I was eight years older than the usual age, I was finally able to enter a Japanese university. I majored in electronics at the Tokyo University of Agriculture and Technology, and also completed a doctoral course at the Tokyo Institute of Technology. However, I had already passed 34 years old by then, and was unable find a job in Japan. I could not give up on my dream of finding work here however, so in order to increase my employability, I worked like mad and obtained another doctorate. I had now earned two PhDs, but even then I was not recognized; to work so hard living in Japan for 14 years and still not be able to find work really put me at a loss. I decided at that point to rediscover my life; if Japan was impossible then this time I figured America was my only option. So at 38, leaving my three young children behind, I decided to have a go in the US scientific world, which I knew absolutely nothing about. With a spirit to 'go for broke', I decided to gamble my life one more time. Fortunately, I found a university that would recognize my talents, and was able to obtain my dream job as a teacher. I taught there for five years, but returned to Japan upon receiving an invitation from one of my old teachers at the Tokyo Institute of Technology, Professor Okujima.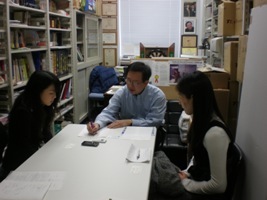 Q:Why did you return to Japan from the US? Also, why did you start to tackle educational reform in universities?
A:I was trained in Japan, and as a result was able to earn 4 PhDs. It is thanks to the training I received in Japan's harsh society that I am here today; I genuinely wanted to repay Japan for that.However, in my newly arrived university I noticed that over 80 per cent of students who did not understand their classes were just left that way, so I resolved to rekindle the motivation of all the students taking my classes.
I continued to encourage these students by talking about the actual experiences I had in my home country and in the US, and how I kept trying no matter how many times I was rejected in Japan. On the other hand, I adopted a very strict attitude in these classes. I conducted them mostly in English, and also demanded students do presentations in English. At the beginning students panicked, but once they learnt how serious I was, they started to put more effort in. All young people are hiding possibilities (latent potential) that they themselves would not believe. It is the drawing out of this potential which is the serious approach of an educator. There is the idea in university that you should only deal with students who are motivated, but I refuse to abandon any of them. I also don't want other teachers to abandon their students.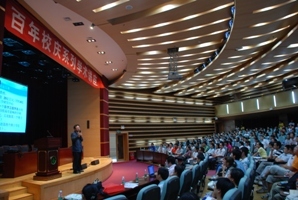 Invited the 100th anniversary of Chinese Univ.
Q:You did not experience affection in your childhood years – where does the unlimited affection for your students come from?
A:I think each student is the main character of their own stories. I want all of them to learn to like themselves and lead their own lives. In order to do that you cannot be half-hearted. My teaching is famous for being strict enough to make many students cry, but I absolutely will not let any of them give up on their dreams. Because their dreams are my dreams too.
Even students with seemingly no motivation hide wonderful possibilities (latent potential). For educators, it is necessary to have an attitude that seriously deals with these students' true feelings, and strives to put every effort into teaching them. If you do this, they will definitely begin to regain their true selves, face their own dreams, and create their own stories. They will start to live their own original lives not created by others. This will then lead to greater self-confidence; students will gradually learn to like themselves and in no time will be become kinder to other people.