Ms Hikari Tasaki
Work: Free lance announcer
Dream: To create a new style of food world

Having kept pursuing the happiness of "eating" from the childhood, she researched about the food in Haikai world at a university. From 1997, she had a successful step as an announcer at Kyushu Asahi Broadcasting Corporation. After resigning KBC in 2006, she studied abroad in China while searching for delicious local food, worked as a Japanese Culture instructor at a local university. In 2007, she finally became a food analyst while as a free launce announcer,
in Tokyo, making strenuous efforts to promote the food world through mass media.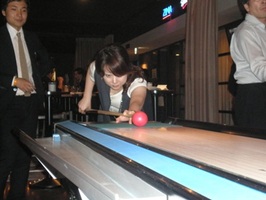 At last I went to try "Billi-bow!" I was so curious about it since it was introduced on TV and other media. I went to a building along Shinjuku Yasukuni-dori, on the 4th floor. With a chic, spacious dining space, there were the lanes, one-third of the actual bowling lanes. It had a modern, adult atmosphere. "Billi-bowl" is a mixed word of "billiard" and "bowling," a new type of sport. The rule is exactly the same with bowling. All you have to do is hit the bowling ball with the billiard cue and hit the bowling pins. Even frail(?) girls can easily play this game! Actually this sport came out into the world because of the girls' voices; "I don't want to break my nails." "I don't want to take off my boots and wear those ugly shoes." "Bowling balls are so heavy."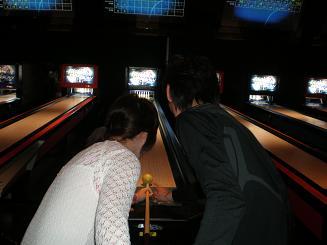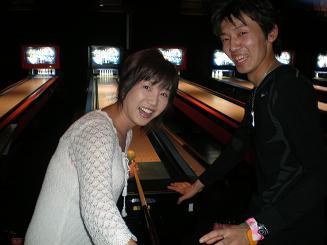 And I tried. I haven't played billiard for a long time so I could not use the cue properly and when I actually hit the ball, it was quite difficult. All of them were gutter… The staff came, men around me came, to coach and at last at the third game, I was much better as you can see from the photo. I got 70 points. But when I heard that usually people can easily get 100 points after playing for 3 games, I was pretty much shocked. Oh, well. But I wanted to practice more because I really thought I can do much better. I gave it a rest and watched other people play, eating my crispy pizza peperoncini. It was quite nice watching the match-making group, the boys coaching the girls and the girls shyly hitting the bowling ball. This sport has just come out into the world and starting to become popular, so if I could practice more now and call others to join a little bit later, they will give at me this envious look. It is not a difficult game to play and people of all ages can enjoy. Soon "Billi-bow-com (billiard bowling matchmaking company)", the "Billi-com" will come!?
Information
Party Space with Private Room and Leisure
Billi-bow Dining
Address: 4F Oriental Wave Bldg., 5-17-13 Shinjuku, Shinjuku-ku, Tokyo, 160-0022
Tel: 03-5292-3557
Open Hours: 2pm - 1am
http://r.gnavi.co.jp/a676905/
For Inquiries:
Please contact Tsukasaki of Billibow Project
billibow-big-project@hotmail.co.jp