The interview for the contestants for IRWS 2017 MARIA MORALES

The interview for the contestants for IRWS(International Red-White Singing )festival 2017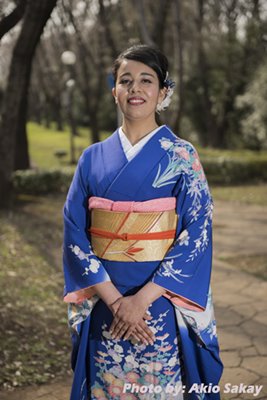 MARIA MORALES from PERU
1. What brought you to Japan? How did you get into singing?
I came to Japan in order to obtain a graduate degree. I'm a second year Master student of Public Health at Tsukuba University. 
I participated in a singing contest organized by the  Faculty of Psychology of my university in Peru (Universidad Nacional Federico Villarreal), that was during my last years as a student, and I got second place, this encouraged me to start singing more "seriously".
 
2. Why did you decide to perform at IRWS? (What do you want to accomplish through this experience?)
I decided to participate because I want to have more opportunities to perform in Japan, know other performers and learn from them in order to improve myself.
 
3. Why do you select  河内おとこ節(Kawachi otoko bushi)?
I like singing happy songs because I want people to be happy and have fun, I think the audience will feel empowered with my performance.

 
4. Would you mind sharing your thoughts as the White team?
→All performers are divided into two teams, red and white like Japanese traditional TV show on New Year's eve. 
Let's do our best!! We won't lose against the Red Team.
 
5. What are you expecting of IRWS & staff?
I expect to have fun with them and learn more about Japan.
 
6. What Japanese song is popular in your country?
Japanese songs are becoming popular in Peru specially because of anime, but one song that the generation of my mother recognize (people around their 60's and 70's) is "Sukiyaki" (Ue wo muite aruko).
 
Official Site FOR International Red-White Singing Festival https://www.irws.org