We are all connected by water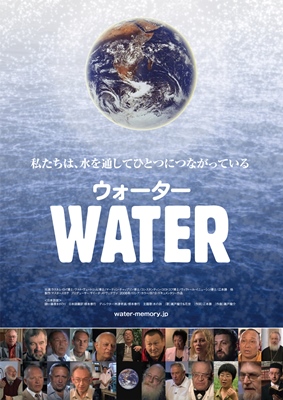 The 2008 award-winning documentary, "Water, the Great Mystery", reveals enlightened new discoveries about the unending potential for water. The film was watched by three milion people in Russia. This acclaimed film won many documentary awards and is available on DVD in English and Japanese.
Scientists, including Noble Prize winners, presented their work on water, and clergy from the largest religious groups discussed the importance of the water in their faith. They reach to the conclusion that "water has memory" and human emotion and thought can effect the structure of water. Science and religion have become closely intertwined, although such a scenario is quite rare in many fields. As the study progresses, scientists are attracted to the mystery of water and reached the concusion that "water holds its memory" or "water has its identity".
This theory has not been supported due to lack of scientific facts, but the film shows that a series of data has been obtained to prove this hypothesis. The idea derives from the fact that about 70 percent of the human body is made up of water as well as other living creatures. If the water can retain memory and has its own identity, why can't we think that all living creatures that are made up of water are all connected like quantum theory - "we are all connected".
To know water is to know yourself.