The 11th International Red and White Singing Festival(IRWS)
Thank you to everyone who supported us.
IRWS is a music event promoting international exchange through Japanese singing in foreign languages and foreigners singing in Japanese. We successfully concluded the 11th edition with great enthusiasm.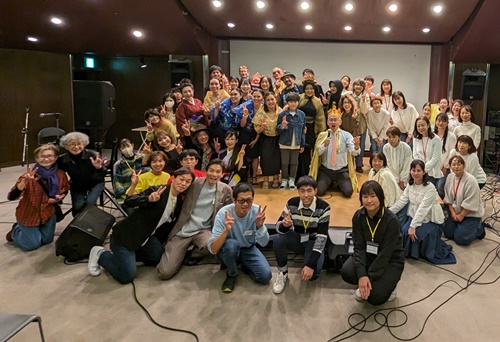 Event Overview:
Date and Time: November 19, 2023, 13:30-17:00
Venue: Minoh Cultural Exchange Center, 6-3-1 Minoh, Osaka 562-0001, Japan
Support: Ministry of Foreign Affairs, Japan-ASEAN Center, Overseas Japanese Association, Study Abroad Support Consortium Osaka
Sponsors: City Housing Corporation, Handy Network International Corporation
= Partner Companies and Organizations =
ICHII Corporation, Global Trust Networks Co., Ltd., Eisei Hospital, Japan Mind-Body Functional Activation Therapy Instructors Association, Oakhouse Co., Ltd. EMUROKU Corporation, Exing Co., Ltd.
Radjin (General Incorporated Association) / Japan International Cooperation Center (JICE) / Osaka International Exchange Center (Public Interest Incorporated Foundation) / Music for SDGs Humming for PEACE
Yamamoto Gakuen School / Nihongo Platto
LPK Bahana Inspirasi Muda (Indonesia)
Cebu Music Learning Center (Philippines)
Brazilian Business Group - ASIA (Japan-Brazil)

Organizer: International Red and White Singing Festival Executive Committee
This event served as the final event of the first-ever "Study Abroad Student Week," initiated from November 13 to 20 to deepen the exchange between international students and Japanese people (organized by the Study Abroad Support Consortium Osaka). It was held at the Minoh Cultural Exchange Center in Osaka and connected online with Cebu and Sao Paulo.
Participants from 11 countries and regions, including Indonesia, the Philippines, Vietnam, Taiwan, Macao, India, the United States, the United Kingdom, Germany, Brazil, and Japan, gathered, including performers and volunteers both at the Osaka venue and online.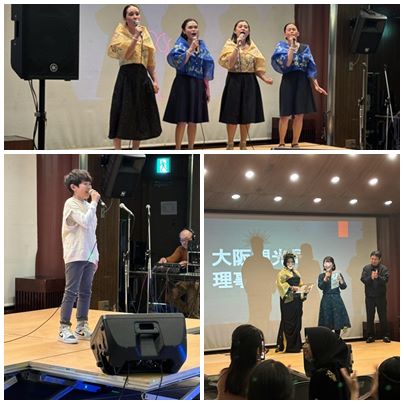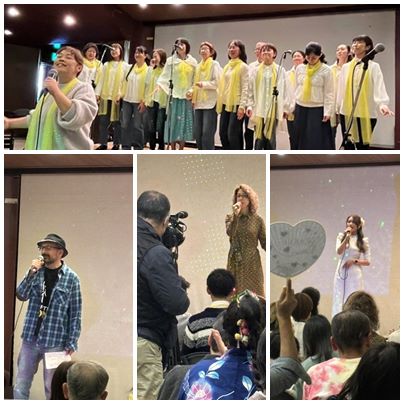 Host: Sunny Francis, a popular TV and radio personality with 32 years in Japan, and a former Indian international student.
Assistant: Representing student volunteers, Mayo Inoue, a 3rd-year student from Osaka University's School of Foreign Studies.
Opening: Kicked off with the support song "Asian Gateway Osaka"
After that, the enthusiasm of the 13 participants continued to heat up. Later on, people from overseas sang songs J-pop like "Marigold," "Melody," and the theme from "Demon Slayer" in Japanese. Japanese participants showcased Thai and English songs.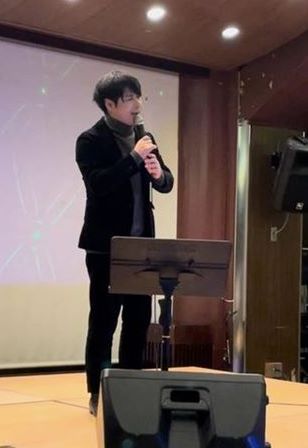 Guest Singer: Tatsuya Kitagawa, Minoh J-POP Ambassador, made a special appearance. 

The finale saw Mr. Mizohata, Chairman of the Osaka Convention & Tourism Bureau, singing "WE ARE THE WORLD" along with international students, all performers, volunteers, and staff involved.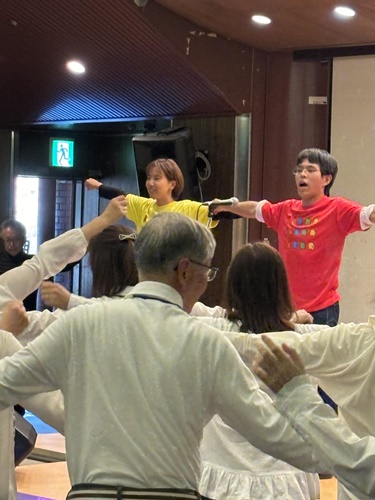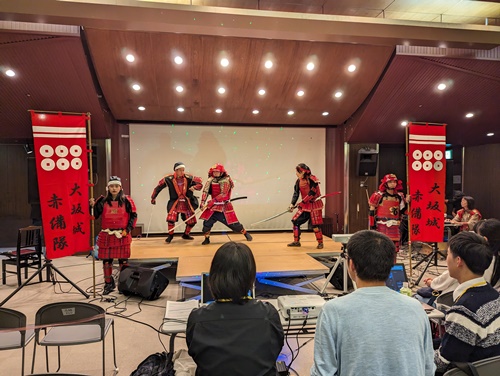 Special Performances: Included the Osaka Kansai Expo TEAMEXPO's "1 Million People Radio Calisthenics" and a performance by the Osaka Castle Red Guard (a cleaning volunteer group).
Online connections with Sao Paulo (Brazil) and Cebu (Philippines), featuring guest singer videos and a Zoom connection with Ebihara, Chief Judge of the Sao Paulo Nikkei Karaoke Association, introducing local karaoke culture. Followed by a connection with Cebu Music Learning Center, which supported the event in 2017-2018, discussing future collaboration.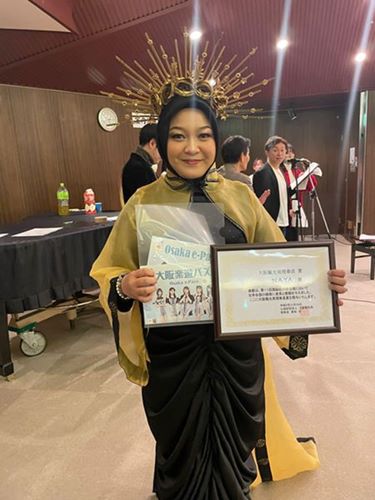 Recognition:
Two students from Indonesian medical universities, selected through Indonesian qualifiers, were invited. One student, Naya, received the Osaka Convention &Tourism Bureau Director's Award. The Indonesian Ministry of Health reported the warm reception of Japanese society towards healthcare professionals.
Insights from Local Representatives:
According to local representative Haruyama, who supported the Indonesian qualifiers, the global competition for caregiving and nursing talents is intensifying. Despite the relative decline in Japan's attractiveness due to a weaker yen compared to Germany and Saudi Arabia, Japan emphasizes its solid reception infrastructure and welcoming atmosphere.
Volunteer Involvement:
High school and university volunteers, including six English volunteer guides from Osaka Castle and Hokoku Shrine, 15 Vietnamese students from Osaka University of Economics, and four Japanese students from Osaka Public University, actively supported the event. They experienced the joy and challenges of international exchange and event coordination.
The six student interpreter volunteers took on various roles, serving as ambassadors for the International Red and White Singing Festival. They engaged in promotional activities, such as radio appearances and promoting the event at the Children's EXPO. On the event day, they assisted as assistants to the hosts, conducting interviews with participants in both Japanese and English.

The event plans to continue regular online meetups with participants and volunteers from Cebu and Sao Paulo. Building on the success of online interactions, efforts will be made to deepen connections between guest participants, Japanese participants, and volunteers, aiming to create an online community for the International Red and White Singing Festival in preparation for next year's event on November 17, 2024, at Maple Hall in Minoh City.
Event Coverage and Publication
Pre-event PR:
Children's EXPO Feature: "Let's Talk About Osaka-Kansai Expo and SDGs"
Provided by Nishio Rent-All Co., Ltd.
Event Participation: October 28
FM Kobe KISSFM - Guest Appearance on VANDY's "What's Going On"
Guest appearance on VANDY's show, "What's Going On," on November 12.
Event Coverage and Publication
Pre-event PR:
Minoh FM816 - Ongaku no Susume (Music Recommendations) - November 3
https://fm.minoh.net/program/onsusu/

Event Coverage:
Newspaper Coverage: Yomiuri Shimbun (Published on November 20) & Yomiuri Online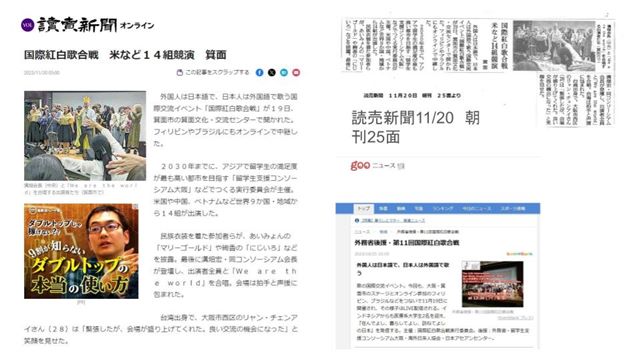 ABC Radio - Sunny Francis's Masala Radio (18-21h) - November 19
Sunny Francis, who hosted the event, humorously covered the International Red and White Singing Festival on his radio show for over 10 minutes.
https://abcradio.asahi.co.jp/masararadio/

Jimoto Topics on JCOM (Osaka Area) - November 25-December 1
https://www2.myjcom.jp/special/jch/jimotopi/
A local information program, "Jimoto Topics," was broadcast three times a day from November 25 to December 1 on JCOM in the Osaka area.
Jimoto Topics Link
Featured on Minoh FM816's "Minoo NOW" program on November 27 and 28.
https://now.minoh.net/
https://now.minoh.net/2023/11/19/id_1837

Social Media Coverage:
Participants, friends, and acquaintances shared event details in various languages on numerous SNS platforms.

Example1:A video digest created by Filipino participants

Example2:A video digest created by Indonesian participants