Support International students

Support International students
to study and live in Japan at ease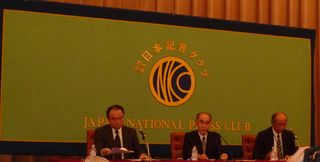 May 9, at the Japan National Press Club, the press conference was held by the council of Japanese Language School to support Int'l students after the massive earthquake hit on March.11.
The number of students studying in Japan decreased due to the earthquake. The refusal or postponement of admission for April term was 30-50%. 70% drop will be expected for October term, which will also greatly affect universities and colleges.
Of course, the primary cause for this was the news concerning the nuclear accident. The worried parents stopped sending their kids to Japan. Some people changed their plans to study in Japan, with the worries that situation would get worse.
The current number of int'l students is 175,000, However significant decrease will be expected in the future. This will certainly affect Japan's new growth strategy (Japanese cabinet plans to increase the number of students up to 300,000 by 2020) in great deal.
For emergency, the council urges prompt response from the organizations such as the Ministry of Foreign Affairs for the following purposes.
The main purposes of the Council,
Collect and send Letter of Encouragement from Int'l students to the victims of the earthquake.
Recruit and send student volunteers to the affected areas.
Provide earthquake related information in foreign languages.
Petition to the authorities to ease the regulations to encourage Int'l students to study in Japan.