The Pink Cow restaurant for BIG FUN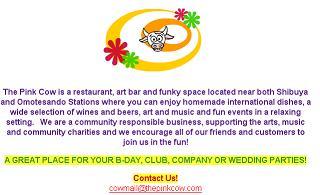 The Pink Cow is a restaurant, art bar and funky space located near both Shibuya and Omotesando Stations where you can enjoy homemade international dishes, a wide selection of wines and beers, art and music and fun events in a relaxing setting. We are a community responsible business, supporting the arts, music and community charities and we encourage all of our friends and customers to join us in the fun!

http://www.thepinkcow.com/NewHome_e.htm
*The August Cow*
***Fri./Sat. Night amazing buffet as always. ¥2,800pp, 7-10pm. Great for
Birthday parties or other special occasions!
Sun., Aug., 2nd – COW JAM!
Monthly gig & live jam session!
Come and hang with the herd!
Listen to those dulcet moos and rockin' improvs from regularly appearing
cowhands!
Randomly including:
Sorcha
David
Missing Scene
Guitarpan
And Guests
If you wanna show us your moosical talents, email David at
cowjam@thepinkcow.com

to join in the shindig! If everyone brings 5-10 friends for dinner we will
all have a good audience!
Limited time slots are available so sign up soon.
http://www.facebook.com/group.php?gid=25053175956


Regular & Guest acts are followed by a live jam at the end of the evening.
The JAM is on toast from 7pm, but come early for the fabulous Pink Cow grub
and the best seats in the barn!
Rock'n'moo Tokyo!
7pm - No Music Charge

Tues., Aug., 5th – Fruits in Suits
Fruits in Suits
Description: Fruits in Suits is a once a month social networking function
for gainfully employed Gays & Lesbians in Tokyo to make connections and
friends. For details on our latest events, to network with others or to
eat, drink, discuss current topics, join our facebook group.

Email: tokyo.fruits@gmail.com
Please spread the word and bring friends!

7pm - NO CHARGE!

Thurs., Aug. 6th – Peace Day Celebration!
Presented by the Shinagawa Djembe Posse! Featuring African drums, live
music, dancing and art. Everyone will eat, drink and be merry on a day to
think about more peace and love in the world!

6pm- NO CHARGE!

Fri., Aug. 7th – Live w/ W.E.T. BAND WAGON
W.E.T BAND WAGON:
Yoppie (Bass),
Makky (Guitar),
Pete (Guitar & Vo)
Sato-Mana (Keyboard),
Andy (Djembe),
Ryotaro(Drums),
Mori (sax),
Yukki (Guest Vo) ←just 3/25

Style: funky Jazz / soul & improv. JAM band from Tokyo.

Influences: Music that makes your head bop and your hips shake.

Description: W.E.T. Band Wagon: a 7 piece band founded on funky loose
grooves, genki vibes and the spirit of the weekend.

FOLLOWING OUR YUMMY BUFFET 7-10pm 2,800yen
From 10pm, NO CHARGE!

***Fri./Sat. Night amazing buffet as always. ¥2,800pp, 7-10pm. Great for
Birthday parties or other special occasions!

Sun., Aug. 9th - FLO Union & Artist Reception Party!
Please welcome Aug. featured artist: Ponzi & Friends!
After a six week stint in Karamea New Zealand as the artist in residency at
Rongo Backpackers and Gallery(www.rongobackpakers.com) Artist Ponzi is back
in Tokyo with a slew of new paintings. The Pink Cow in Shibuya has
graciously opened it's doors to show Ponzi's and other fine artists' work in
The month of August. Come out and enjoy some food,drinks,music,live
painting, and other art-peace to all infinitely

Ponzi will be regaling us with his live painting in combination with lots of
cool DJs, music and art with FLO Union!

Plus - FLO Union media lounge, a chilled-out gathering of video artists,
Vjs, Djs, animators, filmakers, live music, artists, projection &
performers. To perform, present, show work, enjoy and meet new people or
just join our mailing list, then
Mail to: flounion@gmail.com

From 7pm – NO CHARGE!

Wed., Aug., 12th – Don's Bike Night
Bike Night with the Half-fast Cyclists:
If you travel on two non-motorized wheels in this city, whether those wheels
are mountain, road, recumbent, mama-chari or any combination thereof, you're
invited to the continuing meetings of the Half-fast Cyclists. Share your
experience and experiences, meet other cyclists, arrange rides & races,
trade stuff, learn stuff, join a club, and of course quaff a few beers or
grab some grub. Ride your bike! halffastcycling@hotmail.com
http://halffastcycling.com/

From 7 or 8pm, or whenever they show up – NO CHARGE!

Thurs., Aug., 13th – Special Cow Jam Suplimemtal!!!
Welcome a Very Special Guest Artist Melinda Ortner
plus some of our other amazing Pink Cow Crooners & Jammers!


Melinda Ortner
With two recent song placements in the feature film, "I Hate Valentine's
Day" by Nia Vardalos (My Big Fat Greek Wedding) and fresh off the stage from
The Whisky A Go Go, Melinda Ortner is well on her way on her musical
journey. Melinda recently had a big shout out "tweet" from Pharrell's band,
"Chester French" of Interscope Records. She was voted Best of 2008 and 2007
for KLAS FM Radio in Los Angeles. A semi-finalist for IMWSC, Melinda has
been building her growing fan base in the tough love trenches of Los
Angeles. She is in the midst of recording her 2nd EP and has just released
a music video for her new single "Heartbeats".

FROM 7PM – NO CHARGE! Come early for dinner and the best seats!

***Fri./Sat. Night amazing buffet as always. ¥2,800pp, 7-10pm. Great for
Birthday parties or other special occasions!

Fri., Aug., 14th - Middle Eastern Buffet Night
As a variation of our super yummy weekly buffet, Chef Andy will be preparing
our wonderful buffet featuring special middle eastern dishes including
Raisin, Honey & Almond Couscous, Yougurt Navarin, Kebabs and Curried
Lentils.

Come for dinner and stay for djs!

DJs From 9:30pm – NO CHARGE!

Sun., Aug. 16th – Cow-Go! International Party & Live Music!
The Cow-Go! International party features groovalicious Party Monster DJ
tunes and Live music by fabulous bands!

Come join us all at Cow-Go! Have fun at our monthly language & cultural
exchange party that is a part of our Creative Language Network! Meet new
people from all over, practice different languages and share culture over
yummy food and drinks. Nomunication!

Join our Cow Go facebook group!
http://www.facebook.com/group.php?gid=25053175956


Cow-Go!
Creative Language Network

Join our Pink Cow language network – a creative way
to learn and share at an affordable price!

You design your own program.
Choose the teachers, style, times and location to suit
your learning needs.
Specialized lessons available for special interests.
You tell us what you need!
1-1 Lessons & Specialized Lessons, Reasonable Prices, Experienced Teachers
and monthly cultural exchange parties:) Come enjoy the fun with us! We'll
have great live music & DJs and lots of fun for all! Free entrance!

email cow-go!@thepinkcow.com
for more information go to: www.cow-go.com

Sponosored by:
BORDERLESS HOUSE
International Shared Houses / Guest Houses in Tokyo!
Clean & Great Location & Reasonable Rent. Join Us!
http://www.borderless-house.com/

From 7pm - No Charge!

Wed., Aug. 19th - 500yen Margarita Madness Night!
It is the Middle of August and all of us still here in Tokyo deserve a
mid-summer cool-off break! Mid summer, mid week, margarita madness is the
ticket! Don you sombreros and meet us at the trough for burritos as always
and margaritas on the rocks for just 500yen!

5pm til we fall off the bar stools!

Thurs., Aug. 20th – The Vegan Club
Vegan Club:
Calling all vegetarian friends (or non-vegetarians who like good food and
meeting new people)! The Tokyo Vegan Meetup group is holding their monthly
dinner once a month. To reserve, please go to: http://vegan.meetup.com/389/
> . Join us for a delicious and healthy meal
and meet a diverse and lively group of food and animal lovers! If you are
curious, vegan = no meat, no fish, no egg, no dairy. Bring your friends!!

Dinner at 8PM - all you can eat buffet menu ¥2,800 (drinks separate)
For maps and more info please check www.thepinkcow.com


***Fri. Night amazing buffet as always. ¥2,800pp, 7-10pm. Great for Birthday
parties or other special occasions!

Fri., Aug. 21st – Special Live Dinner Show!
Artsy Jazzy Party Featuring Steve Fell, Haru Takamichi and Suiren!
Come and join us for a night of groovy jazz, belly dance and art-making! For
the price of Pink Cow's scrumptious buffet dinner, you'll be treated to live
performance by the super-hip guitarist and composer Steve Fell and amazing
bassist Haru Takamichi; a belly dance show by the ever-enchanting Suiren;
and a chance to freely create your very own music-inspired art!!
Steve is a naturally sought-after fixture on the Boston music scene playing
anything from free jazz and experimental, to west African and Carribean
ensembles, who will be visiting and performing around Tokyo this summer. He
will be joined by his old Berklee buddy and jamming partner Haru, who
actively performs and blows away audiences in numerous venues around town.
For the second set, you'll be invited to grab some art supplies and express
the music through you. Sound odd? Give it a try and you'll be surprised!
Come prepared to delight all of your fives senses!!!


Time schedule:
7:30-8:30 First set by Steve and Haru
10:00-11:00 Second set by Steve and Haru, and art-making!!
11:00-11:30 Belly Dance by Suiren
Buffet dinner from 7-10 pm. Dinner reservations required.
2,800pp, rsvp cowmail@thepinkcow.com

Sat., Aug. 22nd – Special Drum Cow Party Night!
Shinagawa Djembe Posse presents DRUMCOW
Come join us for some great fun with African Drums! What hippies do in the
park except inside!
Shinagawa Djembe Possse is a session group that centers on drum "Djembe" of
Africa.
The rhythm is feelings. The groove is harmonizes and heart beat.
Vibes of Shinagawa Djembe Posse that keeps extending explodes with pink Cow
on Sunday in the end of every month. The place where the generation, sex,
and the race live, the religion, and the border are unrelated! Center of
Japan→Shibuya in Tokyo→Gathering vibes→Music is freely expressed→Everyone is
connected→The fight is lost!
Friend and important person, favorite party, and all welcome.
Let's Come join us in happy session.

********************************
Peace to the world !!!

From 6pm – ala carte menu - NO CHARGE!

Sun., Aug. 23rd - Japanese Lounge Night #5!
Come join us to enjoy and learn and experience more about Japanese
instruments in a fun, relaxed way. We love to have music fans, learner for
Japanese/English language and Japanese culture, loves Kimono but needs a
place to go in it...that means you, your friends and family. Meet new people
and enjoy great food and drinks! It's also a open mic event, please bring
your talent if to perform with our instruments!

http://www.thepinkcow.com/
(MAP http://gmap.jp/shop-912.html?&uid=197621)
If you're interested in performing, please let us know!
JLN page on Kumiya's: http://shamisen-sensei.com/jln.aspx
Article on Nekkei BP net
http://www.nikkeibp.co.jp/article/column/20090630/163977/?P=4
You must log in but we also have a group page on mixi.
http://mixi.jp/view_community.pl?id=4425492

Would you like to sneak peek at the event on online video?
http://www.ustream.tv/recorded/1841806

Featured Guest Performers:

Daisuke "John" Kaminaga(Shakuhachi) http://web.me.com/apochromat/
plays not only Japanese classical but also a variety of collaboration music
with the guitar, the Piano, poem, play, dance, live painting, ethnic music
like karimba and so on.
and Mizuho (Koto)

Shinya "Chu John" Yamazaki (Shakuhachi)

Masafumi Saitou from Aragehonzi(Yokobue, Guitar)
a gutarist and Japanese transverse bamboo flute player with Ming-yo style
basement songs. http://aragehonzi.com/

Kumiya- Shamisen (Hosozao. Hauta, Kouta & Ming-yo) Sensei of Shamisen lesson
for beginners and tourists in both Japanese and English.
http://shamisen-sensei.com
Plus special guests and students joining the fun!


From 7pm - NO CHARGE! Come early for dinner and the best seats!

ジャパニーズ ラウンジ ナイト #5
堅苦しいと思われる和楽器の音楽と楽しさをかなりリラックスした環境で紹介する月
イチ、
エントランスフリーのイベント。

自分が今どこの国にいるか分からなくなるようなおもしろい場所で、
ステージを見ると着物を着て、和楽器を奏でる人達が…
しかも話しているのは英語。

日本文化に興味のある外国出身の方や実際に和楽器を習っている各国の生徒さん、
もちろん音楽好き、英語で話したい、機会がないだけで着物でのお出かけ先を探して
いる人、おいしいお酒や多国籍なフードを楽しみたい
ゲストやパフォーマーの集まっているイベントです。
飛び入り参加も大歓迎♪日本の伝統楽器と一緒に弾きたい方は是非楽器を持ってきてく
ださいね!

8月23日日曜日7時からスタート
エントランスフリー!入退場自由!
場所;渋谷ピンクカウthe Pink Cowhttp://www.thepinkcow.com/
(携帯からも見れる地図 http://gmap.jp/shop-912.html?&uid=197621)

出演者の久美弥のサイト内のイベントページ:
http://shamisen-sensei.com/jln.aspx
日経BPネット内のイベントへのインタビュー記事
http://www.nikkeibp.co.jp/article/column/20090630/163977/?P=4
ミクシイにコミュニティーもあります
http://mixi.jp/view_community.pl?id=4425492

先にイベントの様子を見てみたい方はこのオンラインビデオ
で!http://www.ustream.tv/recorded/1841806

パフォーマーリスト:
神永大輔(尺八) http://web.me.com/apochromat/
どんな音楽にも即興で合わせることを得意とし、箏や三絃との伝統的な三曲合奏にと
どまらず、ギターの弾き語り、カリンバなどの各国楽器、詩の朗読や踊り、演劇など
とのコラボレーションを展開する。2008年秋より一時、ロックバンドHeavensDustに所
属し、アメリカ・ロサンゼルスのレーベルHensley Musicと契約。韓国ツアー、ロサン
ゼルスでの活動を経て、現在再び東京に拠点を移し、フリーで活躍する
瑞穂 (箏)

山崎真夜(尺八)

アラゲホンジ齋藤真文(ギター、横笛)http://aragehonzi.com/
東北の民謡をベースとしたギターと横笛。

久美弥(細棹三味線)http ://shamisen-sensei.com

端唄、小唄、民謡。英語と日本語での初心者やツーリスト向けの三味線の先生

***Fri/Sat. Night amazing buffet as always. ¥2,800pp, 7-10pm. Great for
Birthday parties or other special occasions!

Tues., Aug. 25th – ヌヌ(Nu Nu) Music Listening Experience
The ヌヌ(Nu Nu) Music Listening Experience is a new way for artists to be
heard and receive feedback about their particular sound, style, single
release test responses, and marketability. Serious artists wishing to gain
new fans and penetrate earlobes are encouraged to submit their music. The
public is exposed to new music by premiering it in an active listening
environment that is outside of a club atmosphere, and not as demanding as
website online players and rating systems. Participants objectively listen
or passively lounge in the mood while completing a survey about a featured
selection.The venues of the Nu Nu change in order to diversify the listening
audience and atmosphere to receive artist's music. The Nu Nu aims to be the
premiere live listening event, artist breaking channel, and greater Tokyo
Metro's DJ and promoter import circuit.

Artists can receive information about submitting music by emailing Daisha
Hunter at:
sistasukisounds@gmail.com
or by visiting
www.DaiTime.com >

Music from 8pm but come early for dinner and the best seats!
Please RSVP for table reservations for dinner at cowmail@thepinkcow.com
NO MUSIC CHARGE!

Wed., Aug. 26th – Law of Attraction Seminar
Charles Alan Ross will be returning to Tokyo this August and conducting his
popular workshop, "Using the Bad to Bring the Good". It's an interactive
workshop that explores how to use negative situations to propel yourself
towards positive changes in your life. Learn techniques to achieve your
dreams faster by shifting your paradigm. Using a Law of Attraction
framework, Charles Alan Ross, MA provides consulting services and coaching
to businesses and individuals. Charles provides individuals with tools to
achieve their personal goals, leading to an optimum and fulfilling life of
their dreams. Charles is a regular speaker at professional and social
organizations. Some of the most popular presentations include; "Dealing
with Difficult People", "Going Beyond Expectations to Wow the Competition",
and "How to Achieve Your Goals without Really Trying".
Charles holds degrees in psychology, sociology, gerontology and a Masters in
social services from the University of Chicago. He has extensive experience
working in the health care field. Charles leads a health care training
initiative for a Chicago concern. Since 2006, through this program he has
helped over 100 people navigate through the Chicago College system to
achieve degrees in nursing. Charles also enjoys all forms of the written
word, whether he's writing copy for health care brochures, screenwriting, or
blogging at lawofattractionkeys.wordpress.com. Charles has been quoted in
the Chicago Tribune, Beverly Review, and appeared on Milwaukee's Fox 6
WakeUp News.
Charles applies the Law of Attraction to all aspects of his life, finding it
a powerful accompaniment to personal and professional development. Charles
enjoys the city of Chicago as a home base for travels and workshops
worldwide.
FROM 7PM, 3,000 door charge
Thurs., Aug. 27th – Jamaican Lounge Night!
Inna di Yaad is a night when old friends get together, meet some new friends
and take their competitive spirit to the next level!
Bring it On!!!!! Monopoly, Dominoes (Jamaican style), cards ( all the games
you can think of), Taboo and yes of course a Chess Face Off!!!!!!!!!! All
with a Jamaican Flair (Reggae and Dancehall all night long) .....Can you
handle it?
Hosted by Me Crazy Sasha....No Dancing Allowed( yeah right)

Hmm did I forget to mention Jamaican influenced food created by the Pink Cow
master Chief and Woohoo Jamaican drink specials all night long

Special Features:
Jamaican Beef Patty
Jamaican Jerk Chicken with Rice and Peas
Jerk Fish Salad with Pita Bread
Jamaican Coconut Chicken Curry with Rice
Banana Fritters


Where: Pink Cow
Date: July 29, 2009
Time: Party starts at 7 till last train
Cost: none, just your game face

Game Schedule will be on Facebook Just type in 'Inna di Yaad'

Cant wait to share the Jamaican hospitality with you!
7pm – NO CHARGE!

Fri., Aug., 28th – Special Dinner Show w/ NYQLA!
NYQLA pronounced [nai kula]
NYQLA is a crossover Jazz-Groove-Pops music band inspired by Jazz, Funk,
Soul, , Bossa-Nova, House, and Club/Dance music. Since 1995, NYQLA has
performed in restaurants, bars, live houses, and music halls in greater
Tokyo area. The band plays both original songs and popular standard songs of
Jazz, Bossa Nova, and 70's disco songs with NYQLA's own new arrangements.
Want to dance? Searching for a nice live band to fit your special dinner
occasions? Come to PinkCow to enjoy NYQLA's entertainment!
Let's Groove!!

NYQLA Musicians:
Mari (Vocal)
Tomoharu Shimizu (Bass)
Dasuke Mori (Guitar)
Tomomasa Yagisawa (Drums, Percussion)
Taku Hirogori (Sax, Flute)
Hideki Sano (Keyboards)
Yuki Ichida (Drums, Percussion)
Miho Tanaka (Chorus)
Tomomi Kiryu (Chorus)

NYQLA official website
http://web.me.com/tyagisawa/TY/NYQLA.html

From 7pm – Entrance with buffet dinner 2,800yen

***Fri/Sat. Night amazing buffet as always. ¥2,800pp, 7-10pm. Great for
Birthday parties or other special occasions!

Sun., Aug. 30th – August B-day Party!
Everyone welcome, ala carte menu:)

***If you do not want to receive our cowmailers please just reply with an
unsubscribe in the subject area, although we milk it for all it's worth we
don't want to bug anyone!



***カウメールの配信停止をご希望の方はメールの「件名」欄にunsubscrib』と書き込
んだメールを送信してください。***