Tokyo Committed to Carbon-Minus Games

2016 Olympic and Paralympic Games Bid supports long-term green drive

Tokyo, 5 March 2009 – Tokyo 2016's vision for hosting a Carbon-Minus Olympic and Paralympic Games continues to gain momentum, as Japan's vibrant capital city reports continued progress in its world-leading environmental initiatives.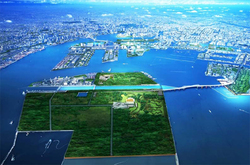 (Artist's impression of Tokyo 2016 Sea Forest: a refreshing 1000ha of lush greenery)
The Tokyo Metropolitan Government's (TMG) ten-year plan to transform the city into a 21st Century showcase of urban sustainability has given rise to an innovative pledge to make Tokyo a carbon-minus city to help secure its Olympic legacy. This, together with the 'Tokyo's Big Change' initiative, charts a decade-long course for the city's urban and environmental transformation.
The Tokyo Metropolitan Government's commitment to a carbon-minus society is reflected fully in the Tokyo 2016 Bid proposal. Tokyo 2016's Bid prioritizes use of existing facilities wherever possible. Where new and temporary venues are required, they will be proactively implemented with high-efficiency, passive designs incorporating energy conservation technology as well as solar, wind and other renewable energy sources. Lowto zero-emission vehicles are another feature of this plan.
The new United Nations Framework Convention on Climate Change is set to be finalised at the COP 15 conference, which takes place in Copenhagen in December 2009, and Tokyo is pushing forward with the 'The 10 Year Project for a Carbon-Minus Tokyo' in the lead up to this milestone. Advanced technology, public-private burden sharing and investment incentives are cornerstones of this effort to achieve a 25% reduction in greenhouse gas emissions by the end of fiscal year 2020 relative to the benchmark year of 2000. To date, a total of 36.5 billion yen has been earmarked for 107 projects related to 'The 10 Year Project for a Carbon-Minus Tokyo'.
'The 10-Year Project for Green Tokyo', meanwhile, aims to promote green urbanism among the Japanese people - enhancing appreciation for the natural environment through initiatives such as organised tree plantings and guidance on protecting greenery.
Another key undertaking is the creation of 1000 hectares of green space in the Umi-no-Mori, or Sea Forest, now under development in Tokyo Bay. The proposed site for Equestrian(cross-country), Cycling(mountain bike and BMX), Rowing and Canoe/Kayak(flatwater) at Tokyo 2016, the Sea Forest Cluster symbolises the rebirth of Tokyo in the form of waterways and green corridors.
As well as improvements to biodiversity and water quality, some 480,000 seedlings are being planted over approximately 88 hectares. A million roadside trees will also be planted throughout the city 540,000 of those by April 2009 – while grass play areas will have been provided to 121 public primary and junior high schools by the same time.
Dr Ichiro Kono, Chair and CEO of Tokyo 2016, said:
"Tokyo 2016 is committed to staging the most compact, athlete-friendly Games - and the first to be carbonminus. Our city is leading the world's major urban centres in long-term environmental planning, and we hope to welcome the world in 2016 to see both a memorable Games, and the benefits of our green strategy."
Athletes and sports fans will not need to wait until Tokyo 2016 to see world-class sport in a sustainable framework, however. Taking place on 22 March, Tokyo Marathon 2009 is set to be the greenest in history.
Athletes, supporters and officials will benefit from innovations such as jackets and caps made from recycled polyester, hybrid cars and buses to and from venues, and water cups made from thinned lumber. All 35,000 runners will sport green shoelaces to raise awareness of global warming and the importance of environmental protection.
(quoted from 
http://www.tokyo2016.or.jp/en
 )