Encounters accelerate life

Tears running for others give you courage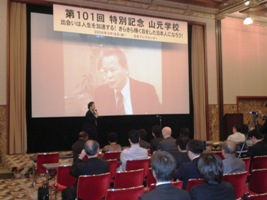 Just like Shokasonjuku Academy, Yamamoto School(Gakko) is acceleratingly powering up in the era of social change. We interviewed a founder of Yamamoto Gakko, legendary breakthrough consultant, Mr.Masanobu Yamamoto, who is still running as a head master at the age of 77.
The 101st anniversary of Yamamoto Gakko
「努力は苦し、されどその実は甘し」(野口英世博士)
Patience is bitter but its fruit is sweet (Dr. Hideo Noguchi)

Tears running for others give you courage

Could you tell us why you started Yamamoto School?

When I came back to Japan, I felt too many Japanese people were helpless and apathetic. I thought I must do something. Then when I attended a publication party of Ryuzo Seshima (former Chairman of Itochu Corporation), who wrote "Ikusanga", he directly said to me, "Not just your own company but care about the Japanese people and how Japan should grow, too." After this incident, I read one special book three times and came to the conclusion that I will absolutely do something. Around this time, students asked me to give lectures and had good responses after the lectures. So I gathered the students, who listened to my lectures, once a month to meet up again. This was the beginning of Yamamoto School. We were talking about our experiences at first but gradually supporters joined us and many great people began to talk whenever we got together and this turns out to be like what we see now. I just lead the meeting now, that's all.

What kind of a student were you?

Compared to my brothers who were brilliant, I had an inferiority complex and could not be confident at all I was engaged in groups regarding English and overseas interns but I quit them after meeting my wife. I was with her all the time. I could not live without her so I married her right after graduation.

How did you change yourself?

I did find a job and worked after graduation. When I was 31, I was transferred to Norway. My English was awful, not even had confidence in my job and where I was transferred was a country where there were no order results between my company. It was like a demotion. It all changed after reading an article in a magazine. One day, I heard from my acquaintance that an article on Hitachi Zosen Corporation was on the Asahi Journal so I read it. The article said that because the shipbuilding business has gone bad, the employee families were breaking up one after another. I could not stop crying hard for about three hours because my colleagues were suffering from such a situation.
And this made me decide. Getting rid of the old me, who used to blame people because things haven't gone smooth, and change myself to do the best I can for my colleagues in Japan.

But in reality, companies that I see, all had actual results. So I just did what I had to do, to get all the necessary information that I can to get an order. I even made a system that all information would come straight to me; collecting necessary information of the shippers for the ship owners and conditions of financial institutions. One time, nearly 70% of the information resource of the trade paper was from me. I could not depend on my company so I made my own information network and in the end, I could possess 85% of the market.


What kind of messages do you send to the Japanese students and international students in your lectures?

No matter what the situation, never give up. Especially, people who have not experienced frustration, cannot really cope with the adversity. It is not the 20s nor the 30s that life counts. Life also does not end in the 40s or the 50s. I am 65 now but many people come to my Yamamoto School, wanting to do something useful for the world. People would meet various people here. There is a wide range of age, too, from junior high school students to people around 80. Every time there is a speech from the ambassadors, and participants vary, too. Diet members, business entrepreneurs, singers, dancers, artists, government employees, doctors, engineers, people from the media... Many students gather, too. Please, why don't you give it a try to come here? You can get together with a wide age range of people and could have a serious talk, too.

Foreigners have been increasing. What future do you see in Japan?

I think it is very important to live together with people from a different culture. I am sure that Japan will be a major power of immigrants like the United States and France in the near future. Maybe the general idea of international marriage might go somewhere. Everybody might all look like President Obama!

What is your favorite quote?

"Encounters accelerate life." People meet various people, learn from them, and grow. One encounter may change your life totally. In my Yamamoto School, I have seen many destined encounters.

Any advices to the students who are going to start job-hunting?

Interviewers are probably seeking people who have potential.
What kind of people would have potential? Think about it.
People who are graceful, bright, simple, and honest. Graceful people would take in lots of knowledge and opinions. Information will go to people who are bright. Simple and honest people can continuously do things that may be simple. We are now in the world of HP, changing from IQ, EQ, and now HP. HP stands for HorsePower. It is necessary to have the power to absorb from people and to grow at an accelerated pace. This relates to "Encounters accelerate life."
Mr.Masanobu Yamamoto PROFILE

While working for the Hitachi Zosen Corporation in Northern Europe he carried out the success of an 85% market share and created a legend. He also accomplished the success of an 85% market share in Indonesia. Eighteen years after he joined the Hitachi Zosen Corporation, he was headhunted to the Cahners Exposition Japan. He established the biggest international trade show for business firms in the whole of Asia (e.g. glasses, jewel goods, writing material/office work, hardware box, airline/space business, books, computer-aided publishing, fine particle, beautician/beauty salon/cosmetics, superconductivity, and CAI/education) and, once again, led this to the great success. Shortly after he was headhunted to SEGA and made the record of ten times more of earnings for third parties, doubling of earnings in the United States and a 63% market share. He is currently working as a business consultant and an advisor for several enterprises through business management. On the other side, he is active in writing and completes hundreds of lecture circuits each year at university campuses and overseas.
YAMAMOTO GAKKO official website