Carving out one's path with effort and gratitude!!

How a miracle was born from the efforts of two nursing candidates and their supporters
Two Indonesian nurses, Ria Agustina and Yaredo Febrian Fernandes , have miraculously passed Japan's National Nurse Exam. They managed this after being here for less than two years and having to start from the basics. They have inspired not only many other nursing and caregiver candidates coming to Japan under Economic Partnership Agreements (EPAs), but also those who supported them from day-to-day.
《Two Indonesians pass the National Nursing Exam!!!》
Chinese exchange student at Lakeland University Ms. Suchintoya , from the MongoRian Autonomous Region, spoke with these two nurses.
Q1: Congratulations on passing the national nursing exam. Many Japanese are surprised that you managed to prepare in such a short time – how did you study for it?
A1: (Ms. Ria After I had been in Japan for two months, the people at the hospital showed me questions from the actual national exam. At the time I could barely read any of them. A lot of other candidates lost their motivation, but I figured that I was human just like the other Japanese nurses, so I swore to myself that I would pass the exam. After taking intensive Japanese language training for six months, I began to work in the mornings as a nurse's assistant, and in the afternoons studied with the doctors in the hospital. Remembering kanji (Chinese pictographs) takes time, so what I did was concentrate on reading and understanding the meaning; I didn't do any writing practice.
The doctors who supported me were also truly kind and thorough in their teaching. Because I was working on my Japanese while doing practical study, I was able to continue to work effectively without getting tired of it. Anything I didn't understand I was able to ask on the spot and then put to memory.
A1: (Mr. Fernandes) It was really tough at the beginning, but seeing Ms. Ria's efforts was encouraging. After coming to Sannocho Hospital (Sanjou City, Niigata Prefecture), I would work in the mornings, then from the afternoon onwards I was given thorough instruction on the national exam from the hospital director as well as many other staff. I worked at solving lots of questions (from the exam). We studied every day, and because many of the staff gave up their own busy time for us, we thought of our study as work, and from day-to-day figured out an effective method to pass the exam.
After six months of intensive training, I didn't have time to do separate Japanese language study. After talking with the hospital doctors, I concentrated on solving exam questions instead, and memorized Japanese where appropriate as I went along. This worked well, and as a result I was able to do five years worth of past exam questions. I compensated for my lack of Japanese study by always carrying around a dictionary; whenever there was something I didn't understand I would look it up and remember it. Then I would try to use that expression as much as possible. Being in an environment where you speak and think in Japanese is study in itself, so I was able to sense my improvement from day-to-day; this was enjoyable.
Q2: The Sannocho Hospital which supported you appears to have had a very homelike atmosphere.
(Bowling Tournament) 
(Everyone at the hospital at a barbeque)
(Ms. Higuchi, who was in charge of taking care of them)   
A2: (Mr. Fernandes) The hospital director Dr. Kamata said to us, "I am you Japanese father, so feel free to say anything to me." This was really reassuring and allowed me to start my life in Niigata. In the same way, the hospital staff were also very warm, and sometimes strict; they treated us like a real family.
Thanks to everyone I was able to live with peace of mind and concentrate on my studies. During the holidays, in order not to become lonely other Indonesian (nursing) candidates took us to the towns where they were living and invited us to bowling and barbeques, so we had many fun things to do besides study. The kendo and volleyball clubs were also good for stress relief. After passing the national exam, we are able to repay everyone who had given their all-out support, so I was very happy about that.
A2: (Ms. Ria) We've also been introduced on TV, and when we went shopping people on the streets of Sanjou would call out to us and wish us luck. There is a lot of snow here so it is quite cold for us, but there were so many warm people both in the hospital and in the town. When I learnt that even the townspeople were supporting us, I swore that I would repay everyone by passing the exam. I still can't get used to the cold, but I want to give it my all as a nurse.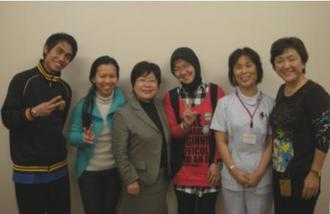 (Everyone at Sannocho Hospital and Garuda Supporters)
Q3: Please give a message of support to all the EPA candidates working towards the national exam as well as other overseas students.
A3: (Ms. Ria) Because I was able to do it, everyone should be able to. Remember the feelings you had when you came to Japan and strive to achieve your goals.
(Mr. Fernandez) Ms. Ria and I encouraged one another in our studies. People have a tendency to isolate themselves when they study, but you and your friends should encourage one another and work hard. To be honest I had absolutely no confidence that I would pass the exam, but on the day the questions I had predicted came out one after the other. I think God also helped me. If you give it your all miracles will happen. We and everybody out there are supporting you, so please do your best to the very end.
(Mr. Fernandes saying her thanks at the passing celebrations)
For the first intake of EPA candidates who came to Japan in 2008, next year's National Nurse Exam in February will be their final chance. Asking people, who cannot understand kanji at all, to pass this exam within three years, is very harsh. However, to put it the other way, if they are people who are able to persist even under such conditions, Japanese hospitals and society at large will undoubtedly give them a warm welcome. The story of Ms. Ria and Ms. Fernandez inspired the staff at their hospitals as well as the Japanese languages teachers who supported them. If the candidates work hard with gratitude and enjoy the warm support of others, they may be able to overcome their situation. For people who are confronting various difficulties, they should also be grateful to those around them, believe in themselves and give it their all.
Interviewer's impressions
Interviewing Ms. Ria and Mr. Fernandes, what was impressive was the strong feelings of gratitude they had towards their companions (the hospital directors and others who supported them). Also, in their exam studies they didn't simply work furiously, but gave proper thought to the tricks of studying and proceeded from there; I think this was the secret to their success. I believe Ms. Ria's strong conviction that "if others can do it, so can I; if others can't do it, I'll show them myself", led to her success, while Ms. Fernandez's view that "nothing is impossible; rather than doing nothing, I'm better off doing something", led to a miracle. I truly received a lot of courage from these two people. I think they will be a big encouragement to other overseas students as well.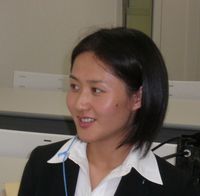 Chinese exchange student at Lakeland University Ms. Suchintoya
We won't give up for the future of Japanese healthcare!!



The Indonesians and Filipinos applying to become nurses or care workers via EPAs, as well as institutions that accept them, are decreasing year-by-year. Problems include the economic and manpower burden for these institutions, as well as Japanese language and national exam hurdles for candidates. In light of this present situation, Garuda Supporters, a volunteer group of specialists, is tackling these practical issues while listening to the opinions of both sides. In January of this year, Garuda Supporters submitted a policy proposal reworking the scheme to the Ministry of Health, Labour and Welfare (MHLW). While receiving a certain amount of recognition, it has not yet led to any genuine improvements. Accepting this, Garuda Supporters hosted an open discussion at the Japan International Cooperation Agency's (JICA) Global Plaza in Hiroo, Tokyo. The event, entitled "Outcomes of the EPA Acceptance Scheme", gathered over 100 relevant people in the field including nursing/caring specialists, university professors, specialists on multicultural policy, veteran Japanese language teachers and NPO representatives. During passionate discussions, participants sounded out radical solutions to this serious issue.

According to Associate Professor Asato of Kyoto University, a specialist on overseas labour issues, the present situation is that all advanced nations rely on foreign staff for their nursing/caring personnel. In the US and Europe, the active involvement of Asian and other foreign staff is prominent. In Singapore and Taiwan, foreigners account for 99% and over 40% of total staff respectively. Internationally, competition to acquire nursing and caring personnel is already intense. Now is not the time to discuss the pros and cons of EPAs, but rather how we can accept foreign nurses and caregivers in a reasonable and reassured manner. The relevant parties (in the Garuda Supporters-hosted discussion) were able to join together and conclude a heated debate by agreeing to devote all their efforts in raising the issue with the authorities. If such constructive discussions are able to be conducted at various levels, serious issues, including the treatment of Japanese nurses and caregivers, will eventually be solved.

Garuda Supporters

Garuda Supporters is a volunteer groups consisting of specialists and business people from various fields. It was formed in order to call for improvements to the system of accepting nurses and caregivers based on the Japanese-Indonesian Economic Partnership Agreement (EPA). Their policy proposal submitted in January 2010 was praised by the relevant government offices and also picked up by the mass media, eliciting a large response.

Joint Representative/Director Wakako Miyazaki
120-022
Tokyo, Adachi Ward, Yanagihara 1-9-13
TEL: 03-5284-3706 FAX: 03-5284-3707
e-mail: info@garuda-net.jp homepage http://garuda-net.jp
(You can view Garuda Supporter's policy proposal on their homepage)
(Translated by Lance Truong (Monash Univ.)