Youth Interpreter Volunteer Guide

The Merit of Students and the Youth to be an Interpreter Volunteer Guide
1. Gain confidence to speak a foreign language
→ Language is "Courage."
2. You can see Japanese culture from the foreigner's point of view.
→ You can rediscover the good points of Japan.

3. You can compare the culture of the participants' countries or themselves and can have a deep, meaningful communication.
→ Developing an open-minded heart towards different culture.

4. Get appreciated to what you have done. You can feel how nice it is to get appreciated.
→ You can feel the true joy of human.

5. You can try very hard to understand what that person wants because the language communication is not enough.
→ Build a warm-hearted feeling towards others. Develop a high communication ability.
Interpreter Volunteer Guide - A very meaningful experience where "Live Language Ability," "Warm-heartedness," "Communication Ability," and build a basic ability which you will need to become a member of the society.

↓↓↓↓↓Liaison Meeting for Student Interpreter Volunteer Guides to be Established Soon in Tokyo.  (We need more Japanese students, exchange students, Student OBOGs!)  
東京でも学生通訳ボランティアガイド連絡会が発足予定
通訳ボランティアガイドに興味のある方は①お名前②年齢③住んでいる都道府県④学生の場合は学校名⑥英語あるいはその他使える外国語のレベル等を記入の上 
までご連絡ください。詳しい資料と説明会のご案内をさせていただきます。 (日本人学生・留学生・学生OBOGの方々大歓迎です!!)
Student Interpreter Volunteer Guide FGC
A Student Interpreter Volunteer Guide Group in Kyoto, which has over 40 years of history.FGC Free Guide Club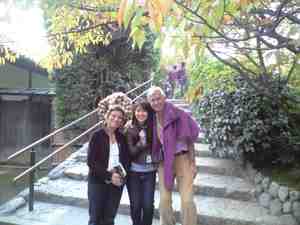 How is your club like? What do you specifically do?
When we guide, we mainly work individually but when we have regular practice and study groups, we get together and have fun. But the first year students need to borrow all materials and textbooks from the seniors to write everything down, so they really have to work hard.
After you pass the test that we have in our group, you can start guiding. You first start by assisting the seniors but with one or two assistance job, you can guide on your own. You need to ask for permission, whether you can guide the tourists to the temples or shrines where you went for rehearsal training.
It is the real joy of the Interpreter Volunteer Guides' activities that within two or three hours you can be friends. You will know quite well about Kyoto and Japanese culture, and as for English you get confidence in speaking. It is the perfect activity group for us who major a foreign language.
Can you tell us about the Guide Contest that started 6 years ago?
In this contest, you explain one Japanese culture to a foreign person in 15 minutes. It is not a presentation nor a speech. It is "Guiding" so you cannot just explain, you need to entertain that person. That's the key point.
This contest is held every December so if you think you are confident in the English language and Japanese History, give it a try!
Futher enquiries for Free Guide Club
翻訳者 :tranlated by 下野佐紀子
GOOD SAMARITAN CLUB, founded in 1962.
GOOD SAMARITAN CLUB, founded in 1962.
What do you do?
This is a Tour-guide club run by the students of Doshishya university, Ritsumeikan University, and Kyoto University. It is a popular club among other universities, too.After several times of study group of each temple, you actually go with the seniors for tour-guide training and if you feel you really want to do it, you can start your guide job. Any members of the club can observe the others guiding so we can all share their experiences, for example, what may be asked and what troubles you will face. As volunteer guides mainly work on their own, this is a strong point of this club.We regularly make reports of our feedback in guiding and hand them out to the temples and shrines that are always cooperating.
What is the most challenging thing of being an Interpreter Volunteer Guide?
We think the time the tourists can spend on looking around Kyoto is limited so we are honored that they chose us to spend their time together.Although this guiding job is voluntary by university students, we are doing our best we can for the tourists. We want them to have a great time and be happy.
Futher enquiries for GOOD SAMARITAN CLUB
翻訳者 :tranlated by 下野佐紀子