HIMEKA debut at last, a Cinderella girl
who made her dream come true after her year's stay in Japan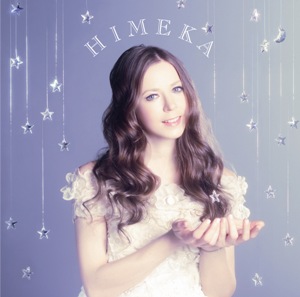 The one who topped 3,186 other applicants by an outstanding singing ability was a Canadian girl, who has a pure heart, as if she came out of the animation world.
Real Name: Catherine St-Onge
From Quebec, Canada. Mother tongue is French.
She came to Japan for a working holiday and when she was on the Internet, she accidentally found the site "2nd National Animation Song Grand Prix" so she applied for it. Amongst the 3,186 applicants, she won the grand prize. The judges were surprised at her outstanding singing ability and her Japanese expressiveness at the finals.
Her awaited Japan debut became true from Sony Music Japan International on May 27th, 2009. The producer is Shintaro Tokita, a member of Sukimaswitch. "Asueno Kizuna" is her debut song, which is also used as the opening theme song of the animation "Valkyria Chronicles" that is on air since April, 2009.
http://www.himeka.info/
Q: What made you come to Japan? 

A: I have been saving money to come to Japan since when I won the Karaoke Competition at the animation convention in the US. I have always wanted to be a singer.
When I first came to Japan, I could not find a place to work as part-time because I was not able to communicate much in Japanese. I found a job though, at a French restaurant. I have been waiting for this chance to become a singer, studying Japanese and practicing singing at home at karaoke boxes.


Q: Your Japanese is great. How did you learn Japanese? 

A: I became interested in Japanese animation when I first watched "Sailor Moon" at the age of 15. Since then I've been watching animation in the original Japanese version and have been listening to animation songs. That's how I learned Japanese. There was no chance to study Japanese at school and no Japanese friends around so I had to study on my own. But I just loved Japanese songs so much that it wasn't at all tough for me to study the language. Here in Japan, of course I study, too. Even when I have only a little bit of time, I watch TV and try to learn Japanese words. Today, too, I learned many words, for example, "Kamishibai" "Ketsuatsu" "Kyokenbyo", etc. (laugh)

Q: Were you confident of passing the audition?

A: As I am a non-Japanese, I thought it was quite tough to pass. But I believed in myself that someday chances will come to me.

Q: The name HIMEKA was your idea?

A: HIMEKA is my animation character that has been living in my imagination since my childhood. I have made up lots of stories but never wrote one. But she is my ideal image.


Q: What messages are you sending when you sing "Asueno Kizuna"?

A: I want everyone who listens to this song, to "Believe yourself and move on." I am so happy that I can sing a song that will give people who are trying hard even though they have some depressing times, courage and hope.

Q: Any messages to the people from overseas, who came to Japan like you with dreams?

A: I think there will be hard times but don't give up, remember the day you came to Japan, with full of dreams. I will study more Japanese and will keep on singing songs that will encourage people.


I thought her passion towards songs has a single-minded feeling, "Singing to encourage people." I think the judges understood her messages, not just her singing techniques.