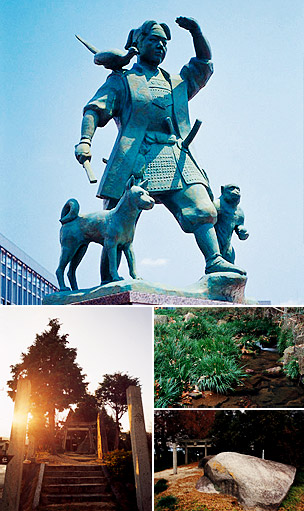 The myth of Kibitsuhiko-no-mikoto and Ura passed down through the years, is said to have been the root of an old tale called "Momotaro". The myth is as follows. "The Prince Ura of Kudara (Baekje: A country that existed from the 4th to 7th centuries in what is the present day Korean Peninsula), used to live in Kinojo (castle of the devil) and caused trouble for the people living in the village. In order to defeat Ura, Kibitsuhiko-no-mikoto was delivered to Kinojo by the emperor's government. After a blistering battle, Ura was defeated by Kibitsuhiko-no-mikoto. In the old tale "Momotaro", Kibitsuhiko-no-mikoto is portrayed as Momotaro, and Ura is portrayed as the defeated devil.
Kibitsuhiko Shrine which is still majestic now is said to have been occupied by Kibitsuhiko-no-mikoto when he battled Ura.

There are buildings and ceremonies in Kibitsu Shrine which come to us from the legend; Okama-den (palace) is the place in which the neck of Ura is said to have been buried, and the holy Yatate Ceremony is for warding off evil spirits. There are many places connected with the old tale as well, such as Yagui-no-miya (the place where an arrow shot by Kibitsuhiko-no-mikoto and a rock thrown by Ura were said to have crashed and landed), Chisui-gawa (literary translated, "blood-sucking river"; after being shot out by Kibitsuhiko-no-mikoto, the blood from Ura's one eye was said to have colored this river red), and Koikui Shrine (a carp-eating shrine where Ura, who tried to escape by transforming himself into carp, was said to have been held in the mouth of Kibitsuhiko-no-mikoto who had changed to a cormorant bird).