I Want to Make this City Open to the Youth and Asian International Students.

I Want to Make this City Open to the Youth and Asian International Students.
The enthusiasm of a 27-year-old, the youngest ward chief of Tennoji, Osaka

Tennoji, Osaka is the town where a Buddhist temple, Shitennoji temple, was built for the first time in Japan. We interviewed Mr. Shota Mizutani who began his career as a ward chief in August this year.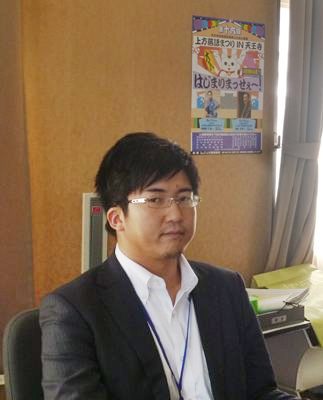 Mr. Shota Mizutani was born on September 9th, 1984. He graduated from School of Political Science and Economics, Waseda University in 2009. He joined Nippon Hoso Kyokai (NHK) in Yamaguchi prefecture as a reporter. He has covered stories in a range of areas including natural disasters such as the heavy tropical rainstorm in Bofu Yamaguchi and the Great East Japan Earthquake and also the issues related to local politics and government. He has reported stories regarding the medical project between hospitals in Japan and China, and research methods to facilitate experiments related to fish oil.
Q1: What made you decide to be a ward chief?
A1: The story goes back to when I was in fourth grade. In social science class, we were asked how we would like the society to be in the future. I had no idea back then. But since then, I started to think about the society we are in. Then I came to the point where I thought that we cannot be ignorant of what's going on in the world. I started thinking that way when I had a discussion with a teacher from high school who studied abroad, about the English articles in the "TIME" and "Newsweek." I wanted to learn more about the society, therefore I decided to study political science at university. I wanted a career related to politics, so after graduation, I worked as a NHK reporter for three years and three months. After conducting several reports on the local government, I became disappointed at the reality. During that time, I heard there was a ward chief position available in Osaka. I decided to apply for the position because I thought I may be able to embark on the idea that I had for a long time if I became a ward chief.

Q2: You were chosen from more than 1400 applicants. What do you think made you the best candidate?
A2: I obtained information about the local politics and studied it as much as possible. I think I was able to explain chronologically what I can contribute working as the ward chief, in detail, in the essay and in the interview. I may have said something irrelevant because I had no experience in this field, but I just focused on expressing my wish to change the local politics. I believe that the most important thing is the enthusiasm.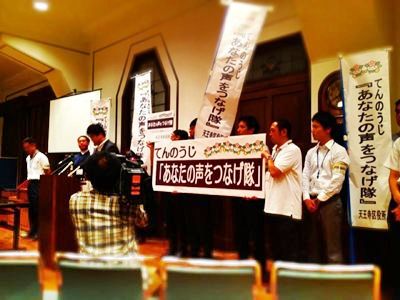 Q3:You've initiated plans such as "Connect Your Voice" (staff members from a ward office visit the residents and listen to their opinions) and the "Provincial Strategic Meeting" (residents can voice their opinions directly to the ward office) which are the first attempts of the government committee. What are the reactions of the youth to these?
A3: We are now able to receive opinions from people in their 20s and 30s, and those who recently moved to Tennoji. I am thrilled to know that there are people responding to a person like me who just started a career as a ward chief. Without the influence of old tradition, I would like to try more new things. With the cooperation of private companies, I am planning to host weddings at our historic city hall surrounded by a number of temples located in a calming atmosphere. I hope that they will love our town more after having their wedding ceremony there. I want to do more for the residents in the town.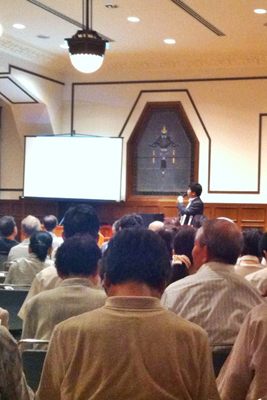 Q4: There are many International students studying in Tennoji. Do you have a message for them and also the Japanese youths?

A4: Tennoji is a city that provides an excellent learning environment. This means that globalization is a key factor. We are thinking of hosting a Business Plan Contest for international students. It seems like there are still difficulties to start business in Japan. We want to do the best we can to support those with enthusiasm and passion, and hope it will benefit the development of the city. I believe that we should be honest and always try to understand each other. By doing that, we can create a livable community for everyone, including international students and immigrants. We hope everyone will continue to follow the development of Tennoji Osaka.

Mr. Mizutani has proposed new policies for the next generation. So far, he has established an "anti-bullying" hotline, which is directly connected to himself, and also an "internship program" for primary school students. He is also going to support the 3rd "International Red-white Singing Contest," which will be held in Osaka International House Foundation next summer. I thought the 27-year-old ward chief may initiate the change of Japan from a local to a national level. "Shitennoji temple" plays a significant role to spread the ideas of Buddhism and social security in Japan. Like the temple, I hope that a new political approach will spread from Tennoji.

What kind of place is Shitennoji temple?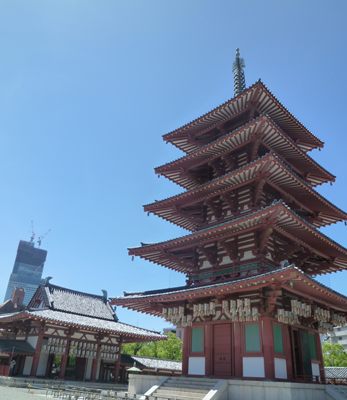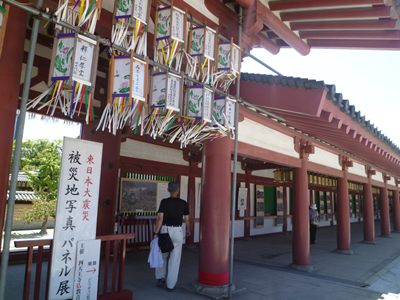 Shitennoji is the first Buddhist temple in Japan. Prince Shōtoku, who became a regent when he was 20 year old, built the temple to spread the idea of Buddhism.
The temple was used as a Buddhist educational institution as well as a medical center to save the elders and orphans with welfare facilities and the latest medical technologies. Millions of people, regardless of religion, attend the grand festival in spring and fall to commemorate Prince Shōtoku who established the basis of Japan.
It has a relaxed atmosphere in spite of the fact that it is located in the bustling city of Osaka. There are many other temples in this area. This is one of the places you may want to visit when you come to Osaka.
《Translated by Kaori Asakami (Monash Univ.)》