Why pair internship?
" It was my first time to talk to Japanese people about myself seriously ever since I've lived in Japan. "
This is the words by a foreign student from China during job-hunting interview, I actually heard. He has not made Japanese " friends" ever since he has come to Japan. I've heard lots of stories from more than 1000 forei gn people through job-hunting interviews. What I can say is that his case is no t rare. Many of them study Japanese very hard, and get into universities or vocati onal colleges in hope. At first, they are eager to make Japanese friends. However, they result in losing opportunities to make Japanese friends because they are busy with par-time job and unaccustomed studying. It makes them harder to get in circles and it also makes them have fewer opportunities to get involved with Japanese students. But If, there is a Japanese student who can say something to them friendly …
"Communicating with a lot of people who have various ways of thinking enables you to understand yourself. "
Hanging out with people who have close hobbies and close ideas of you narrows your vision. If you accept different ideas, culture s and hobbies from yours to them, you will have a wider view increasingly. If I was a Japanese student now, I would get along with foreign students aggressively, and I would also convey Japan 's good points. All of foreign students like Japanese people and "Japan" . That's why they have come here , Japan.
So every Japanese person, let's be the first to communicate with foreign students , and tell them why Japan is good in your mind. Therefore, you can get fans all over the world. When you go to anywhere , your foreign friends will proudly introduce you to their families and their friends. Now, you are at the entrance of such a fun future!
(P air internship operating office global community chief editor Kazumi Miyazaki)
The 2 nd International Red and White Singing Contest

will be held on Oct. 8 th in this year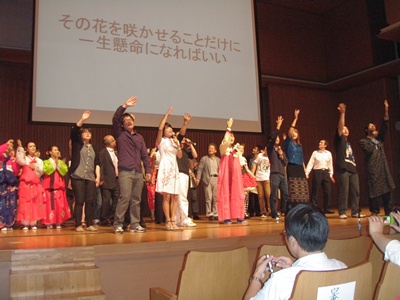 " Let's transmit how wonderful Japanese community is toward the rest of the world from TOKYO! "
The 2nd International Red and White Singing Contest will be held on Oct. 8 that the large hall of National Olympics Memorial Youth Center as last year. In this year, Japanese students and foreign students will manage it and we welcome participations of people from South America and Africa because there were few last year. Of course as same as last time, we accept participations from any foreign person who loves Japanese songs and any Japanese person who loves foreign language songs. Let' s enjoy singing with peers on the stage which accommodate s more than 700 people!
At this time, we also welcome participations from areas which pair internship students will visit.
Looking for participants!!
*Contact us*
The 2 nd International Red and W hite Singing Contest executive com mittee office
Global community
translated by Yuki Senga (Sophia Univ.)