The 10th International Red and White Singing Festival (IRWS) were held by connecting 5 countries  

The 10th International Red and White Singing Festival (IRWS)
were held by connecting 5 countries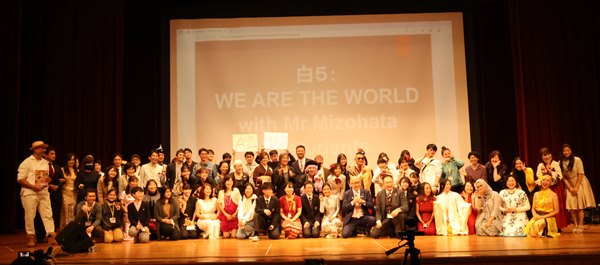 Japanese sing in a foreign language, Non-Japanese sing in Japanese, 
IRWS is a new way to promote mutual understanding of different cultures by singing
together.
《Date and time》 November 20, 2021, 15: 30-18: 30
《Place》 Hagoromo Gakuen / Lecture Hall 1-11-57 Higashihagoromo,
Takaishi City, Osaka 592-0003
<< Authorized by >> 
Ministry of Foreign Affairs,
Osaka Convention & Tourism Bureau,
ASEAN-Japan Centre.
The Association of Nikkei & Japanese Abroad
 << Sponsored by>> 
『TopTop real estate company in Ota-Ward in Tokyo』 
『Grow and Learn together with Social Residence』
------------------------------------
**Partner companies/organizations**
Global Trust Networks Co., Ltd. 
Japan Mental and Physical Function Activation Therapy Instructor Association
 << Organizer >> International Red and White Singing Festival Executive Committee
This event is held as the venue of called "International Student Week" (sponsored by the International Student Support Consortium Osaka), which is the first in Japan, starting from November 13 to 20 to deepen exchanges between international students and Japanese people. It was held online by connecting the stage in Osaka and Cebu, Bali, Sao Paulo, Tokyo.
*Number of event participants
Approximately 150 participants (Hagoromo Gakuen Auditorium, Osaka)
Participants from 13 countries and regions including Indonesia, Nepal, Myanmar, Philippines, Malaysia, Taiwan, Hong Kong, India, Inner Mongolia, China, Russia, Brazil, Japan.
*The number of viewers:
Approximately 1000 in real-time. Access has continued to grow, reaching 2500 counts (as of Dec 15th). By December 22, an e-mail newsletter will be delivered to 15,000 people in Japanese and English. Therefore, it is expected to be accessed about 10000 counts as a whole by the end of the year.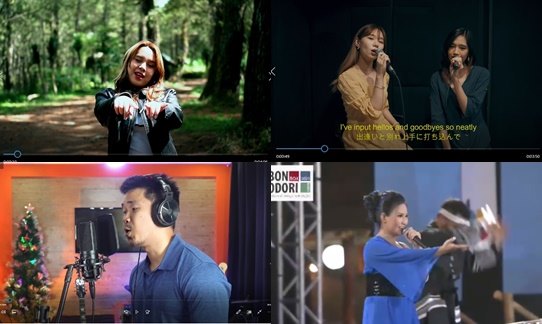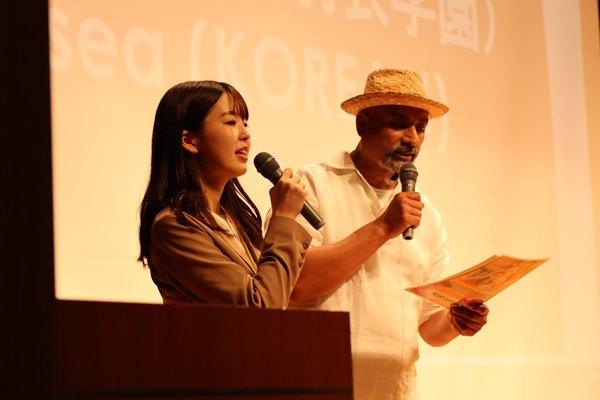 MC is Sunny Francis, a former international student from India. And he is  Kansai's popular TV/radio personality who has been in Japan for 35 years. Ryoko Yuasa, a 4th year student at Kwansei Gakuin University, acted as an assistant.
MC , Sunny Francis, and Ryoko Yuasa emphasized:
『Only one thing we want your favor. please send big applause and cheers to performers』
『IRWS is not for competition. IRWS is for praise for all performers 』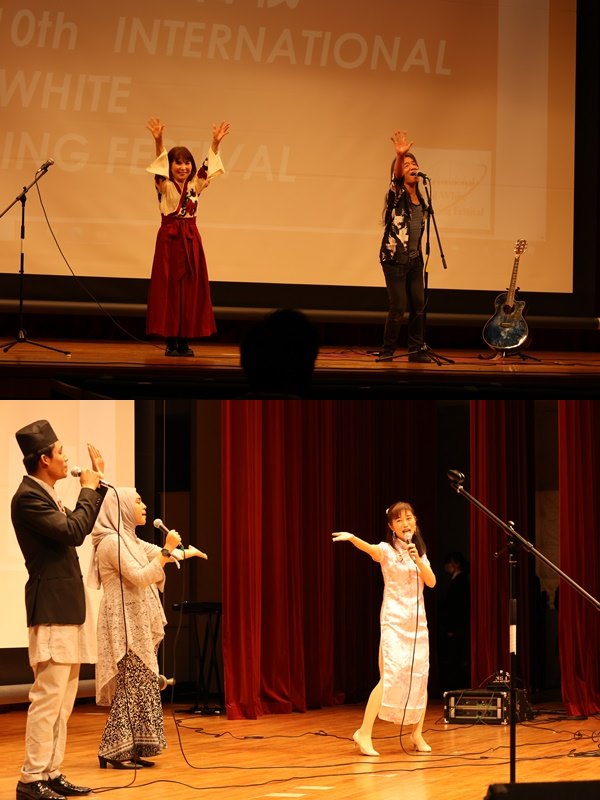 The opening started with "Asian Gateway Osaka", a cheering song for IRWS in Osaka, and it was followed by  "Smile and HAPPY VOICE".composed for Japanese learners.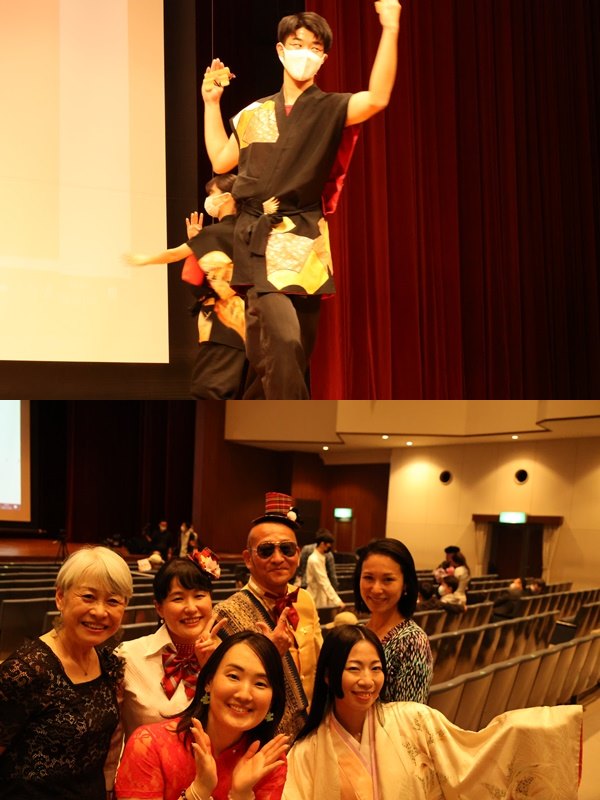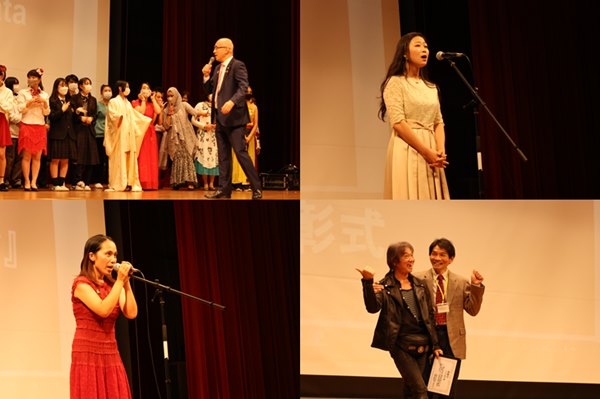 After that, the student from Myanmar sang "365 days of paper airplanes" and "nada so so" in Japanese, and Japanese participants sang Korean, Thai, Swedish, and English songs. 
Chairman Mizohata of the Osaka Convention & Tourism Bureau also sang "WE ARE THE WORLD" with international students to encourage them.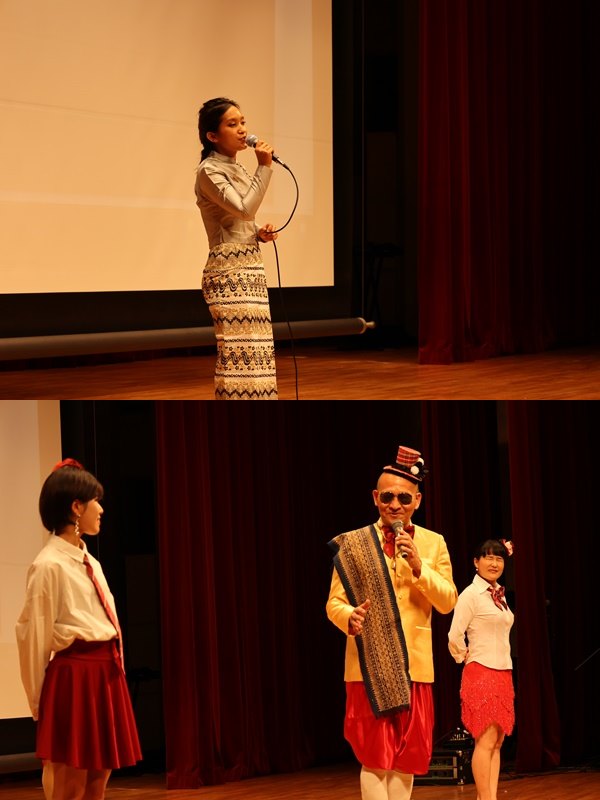 The IRWS 2018 Cebu winner (Philippines)     The IRWS 2018 in Bali winner (Indonesia)  
In the second half, the IRWS 2018 in Bali winner (Indonesia), the 2018 Cebu winner (Philippines), Sao Paulo (Brazil), and Tokyo were connected and introduced, 
Prepared videos of the guest singers were played at the venue, and they were so happy to see them. Keisha (17 years old) is already active as a singer and wants to study music in Japan.
Although unofficial, a pre-exchange meeting was held only for online participants, although performers who have geographically separated, made good friends by sharing their interest in Japan and listening to each other's songs.
TV coverage began a few days before the show, and three cameras were on the day, and many overseas participants were interviewed. It seems that it would have been a good memory for the participants.
This time, the state of emergency was lifted one and a half months before the event, so most of the participants' adjustments and volunteer meetings were done online. live-streaming on YOUTUBE was also done.
We plan to hold regular online social gatherings with the participating members and volunteers to promote efforts to shorten the physical distance and create a friendly  IRWS community online for next year.
 Special guest from 
Philippines
        (polarのAshley&Faith)
"polar" (Ashely & Faith)  graduated from the popular group MNL48 (Philippines version of AKB48) also took into consideration their activities in Japan, and for this day, they practiced Japanese songs and made a friendship appearance online.
Special guest from Tokyo 
Miho Ogata (緒方美穂) World tour of Folk song:Turkey version) She is the main vocalist of the group called 『ORINOVIVO』, which plays world folk songs of more than 25 countries. Their concert is said to be The world tour of folk song music.
Two online participants from San Paulo, Brazil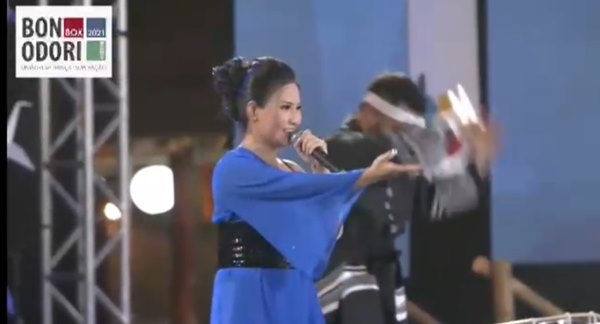 In addition, there were two online participants from Brazil this time, but they learned about this event and participated with the introduction of the Nikkei Karaoke Association (registered members of about 100,000) in Sao Paulo, Brazil.
We had a lot of online meetings in advance with Mr. Ebihara, who has been the representative for 25 years since the Asso. was founded. In the future, we confirmed that we will create closer relationships with each other. We will continue to interact with each other in order to have representatives at each event. São Paulo is also a sister city of Osaka,
We hope to promote "song exchange" with Sao Paulo, Brazil, the home country of many Japanese Emigrants, and create an atmosphere where many people will come to Japan at the 2025 Osaka Expo.
●Media coverage
1: national newspaper Yomiuri Shimbun (21st Nov)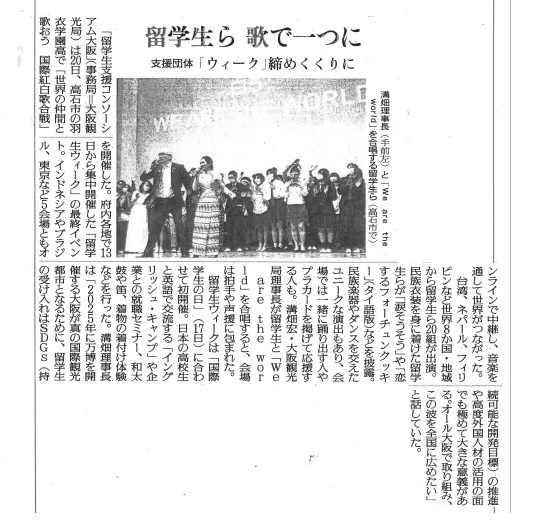 2:FM Kobe KISSFM Interviewed at " VANDY what's going on"(7th Nov)
  Mc Sunny Francias'  radio program at Radio ABC (14th & 21th Nov)

3:Internet media: Kansai Chiniese Times ,kabun jihou,zaikei newspaper,and many others
4: TV Tokyo 『YOUは何しに日本へ』( What do you want to do in Japan?)
  Very popular long-lasting TV program    ( On Air date is not fixed yet.)
TV crew brought 3 cameras and spent 3 days taking a movie, many Non-japanese contestants have been interviewed. They had very good memorable experiences.